8 Ways to Ensure Labor Law Compliance for Your Small Biz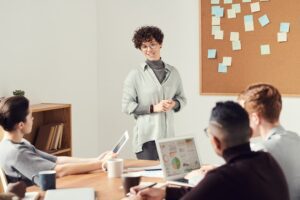 Image Source: Pexels
For a small company, hiring people is a significant accomplishment that deserves to be honored. However, one drawback to employing staff is that you must be aware of and comply with relevant labor rules. Labor laws constitute a complex body of rules and regulations at the federal and state levels. The preservation of workers' rights is one of the main goals of labor law legislation, which often necessitates education efforts on the employer's side. A corporation's bottom line may suffer significantly financially if compliance is not maintained. Due to this, all small company owners must maintain compliance with labor laws. While it's hard to be precise about each unique firm's steps, the following suggestions may help you keep on track with your labor law compliance obligations.
1. Understand the Labor Laws That Are Relevant to Your Business
You must be aware of the state and federal labor regulations that relate to your company before you can be confident you comply. Although federal regulations are applicable everywhere, there are significant differences in how a particular federal mandate will apply to your organization.
Your company must abide by state-specific labor laws in addition to federal regulations. Visit the state agency's website in charge of employment, sometimes named the Department of Labor or something similar, to get acquainted with the state-level standards.
2. Establish a Compliance Checklist
Making a compliance checklist might be helpful after you know the rules apply to you. You'll need to display notices on state and federal labor laws in conspicuous locations throughout the office. You may need further steps to comply if you have a list of the necessary notices.
3. Create an Employee Manual
While creating a thorough employee handbook may take some effort at first, it can be a priceless tool in your compliance toolbox. A handbook not only informs your workers on their rights and benefits, but it may also assist prevent the kinds of misunderstandings that might sometimes result in employee lawsuits.
You should: in addition to making an employee handbook:
Establish a plan for updates to make sure the manual accurately reflects the policies in effect at your organization today.
Possess a document that each worker signs verifying they have received the handbook and any revisions.
4. Conduct a Self-audit for Employment Discrimination.
As a wise company owner, you know that engaging in discriminatory acts exposes you to the risk of expensive employee complaints. Before performing an audit, ascertain if anti-discrimination legislation and regulations apply to your business. As was already said, it's crucial to consider state legislation. For instance, several jurisdictions uphold workers' rights to express their gender identity.
5. Use a Contract of Employment
Always utilize an employment agreement or contract to formally establish the employment connection, whether recruiting full-time employees or requiring someone to work for you part-time. Such a document may assist in defending both the interests of your company and your employees.
You lessen the likelihood of any future misunderstandings regarding the working relationship by outlining the duties of your employee's position in writing. The agreement may provide both parties more excellent protection the more thorough it is. This is one business document you should never go without, whether you utilize a customized employment agreement template or engage an attorney to design an agreement for you.
6. Recognize Both State and Federal Laws
There are rules requiring employers to comply with federal regulations and those unique to each state and industry. Learn all the employer compliance regulations and how they relate to your company to prevent costly fines and other unfavorable repercussions.
7. Conduct an Audit of the Employer's Compliance
You should conduct an employer compliance evaluation after becoming familiar with the relevant federal and state legislation to ascertain if you are presently in compliance with all applicable rules. This will give you a better sense of any adjustments you must make to guarantee compliance.
8. Use Technology To Make the Process Simpler
The demanding job of verifying employer compliance may be made simpler by investing in technology such as timeclock software. Investing in an HR software solution may lower your risk and ensure your company complies with all relevant regulations regarding payroll processes.
Bottom Line
Every small company has to be informed about all the steps necessary to maintain compliance with labor regulations. However, remaining compliant doesn't have to be a hassle regarding administration, and being proactive helps lessen the possible repercussions of noncompliance.