Guide to filing a Homeowners Insurance Claim
More than just a roof over your head, your home is very likely your most valuable asset – one you probably cannot afford to replace out-of-pocket should disaster strike. We all like to hope nothing will happen to our home. But the reality is that a part of owning a home is realizing that it isn't indestructible and will likely sustain damage at some point. That is why going without home insurance is an enormous gamble. Roughly 93 percent of U.S. homeowners are insured, whereas approximately one in 20 homes end up filing a homeowners insurance claim annually. We're breaking down everything you need to know about the Homeowners insurance claim process to help you feel more confident.
Filing a Homeowners Insurance Claim
Protecting your most significant investment should be your priority. Thus, it's essential to understand that Homeowners insurance is more a necessity than a luxury. It covers your home and everything in it in the event of theft, accidents, and even when Mother Nature gets angry.
1. Determine if the claim makes financial sense
Before doing anything else, check whether your policy covers the loss or damage you're claiming. Then, depending on the kind of damage, your loss will range from minimal to severe, and you need to decide if filing the claim makes financial sense.
First, get up to date on specific details such as your deductible and different methods of calculating your payout (e.g., actual cash value or replacement cost). For instance, your deductible is the amount you're responsible for paying out of pocket if you decide to make a claim. In case your damage happens to be under your deductible, filing a claim may not make much financial sense. If, on the other hand, more considerable losses occur due to a peril that damaged your property, filing a home insurance claim with your insurance company would be prudent — and worth it. If you are making a complex or expensive claim, it might be wise to contact your lawyer to see what you can expect before speaking with the insurance company.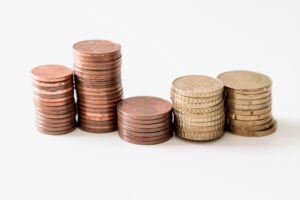 First things first, you need to decide if it makes sense to file a home insurance claim.
Finally, gather as much information as possible about what caused the loss. The more detailed the info you provide upfront, the more leverage you will have and the faster your claim will be processed.
2. Get in touch with your insurance company
The next call you make should be your home insurance company. Most insurance companies require that they be notified promptly after the incident that's likely to result in a claim. You don't have to call immediately, but the sooner, the better. They'll likely give you information about:
whether or not your policy covers the damage;
how soon you have to file the claim;
a ballpark estimate of damage/loss amount;
whether this estimate exceeds your deductible;
how long the process might take;
whether or not you need a repair estimate for structural damage;
3. Gather evidence
To form the basis of the claim, you need evidence. Document all damaged or stolen items, and take photographs or record a video detailing the damage – especially if you need to make any emergency repairs to make the structure safe and habitable or prevent further damage. If you are, per se, filing a claim for personal property loss, you should compile a list of stolen possessions along with their approximate value. Throw in the receipts and home inventory list you'd made ahead of time. This will confirm the value and description of what was stolen, thus boosting your odds of getting reimbursed. The company will then make an appointment for an appraiser to interview you and assess the damage. Then, you'll know how much compensation you can expect.
In the event of theft or vandalism, it would be helpful if you filed a police report. This report will come in very handy when the time comes for your insurance company to verify the crime details. Likewise, suppose you are filing an insurance claim after a natural disaster like a tornado or a wildfire. In that case, it's always wise to hold off contacting your insurance company until you've surveyed the damage. Instead of throwing out ruined or damaged belongings, keep them for when the insurance inspector drops by to assess and document everything.
4. File the claim
Whether you are filing a Homeowners insurance claim over the phone, through an app, online, or in person, they'll likely ask you to provide some general info. For instance, you'll need to provide:
Your policy number;
Your address;
The time and date of the incident;
Details surrounding the event.
You may need to upload, fax, or email evidence of the damage at this point in the form of documentation, a photo, or video to a claims department or a specific adjuster. Fill out the necessary paperwork and ship it back to your insurer as soon as possible to avoid delays.
5. Make time-sensitive repairs
Sometimes, it makes no sense to wait for the professionals to come and complete the urgent repairs necessary. You shouldn't either, not if you believe a delay might result in further damage. Stopgap measures, such as covering your damaged roof with a plastic tarp, will protect you and make your home safer and more habitable until the insurance adjuster arrives.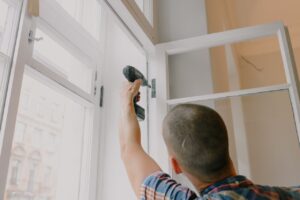 If you have a hole in your roof or a broken window, make the necessary repairs.
Of course, hold on to receipts for all materials you purchase or invoices for the repairs, and include them with the documentation and other evidence you send to your insurer when you file the claim for reimbursement. If the damage is so severe that it makes your property uninhabitable, the moving experts at Orange Movers advise you to consider finding alternative housing until your home is restored.
6. Work with your insurance adjuster
Next, the insurance adjuster handling your claim will pay you a visit and assess the damage before reimbursement can proceed. Typically, the inspection confirms that your policy covers the cause of the loss, examines your home's structure in detail, and provides the insurance adjuster with necessary documentation like photos and receipts. In the event of a liability claim, they might ask you for contact information for your lawyers, doctors, or anyone else who might be familiar with the claim. Finally, the inspection may include a thorough interview with you, the policyholder.
7. Contact the local contractors
The next step in filing a Homeowners insurance claim process? Obtaining repair or rebuild estimates from licensed local contractors, roofing companies, and appraisers. This will give you leverage in case your insurance company is lowballing you. And, if you still aren't happy with your claim settlement amount, or if your claim was denied, you may want to consult a lawyer in your area.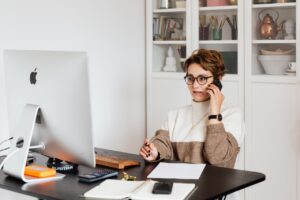 If your insurer makes a low offer, repair or rebuild estimates will come in handy.
8. Receive the insurance payout and finish the repairs
Your insurance company approved your claim? You and the insurance adjuster agreed to the claim settlement amount? Great, next you will receive the claim payout. It depends on the severity of your claim, but you may receive one or several checks. If you aren't sure about your claim payout, it would be best to speak to your adjuster. They'll be able to clear things up a bit.
Wrapping it up
When filing a Homeowners insurance claim, it is essential to know what to expect out of the process. How everything goes down depends on your insurance company and the kind of claim you are filing. How long it takes to resolve may vary. Most likely, it will depend on how quickly you filed the loss, the complexity of the investigative process, and the length of the negotiations over the settlement amount. For instance, simple claims are typically resolved in a matter of days. Those involving more severe damage and numerous types of coverage usually take a bit longer.