What to do After a Bus Accident: A Step by Step Guide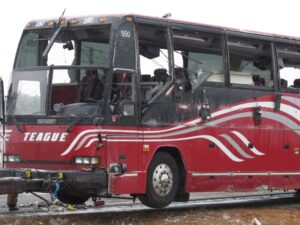 Bus Accident and Transportation Accident Lawyers
An Alabama tour bus bound for a Tunica Mississippi casino overturned Wednesday November 14, 2018 on an icy highway, leaving two people dead and 44 others aboard with injuries. Witnesses told Mississippi investigators that the bus driver lost control after crossing an icy overpass and the bus rolled over on its driver's side, coming to rest in median of Interstate 269 in Byhalia around 12:35 p.m. The tour bus operated by Teague VIP Express overturned on Interstate 269 in Byhalia, about 35 miles (southeast of Memphis. Teague VIP Express, operated in Anniston, Alabama, has never had a deadly accident until Wednesday.
If you or your loved one have been in a bus accident you probably have questions. What you do immediately after the bus accident will determine how much you recover for medical bills, pain and suffering, lost wages and more. Injuries may be severe and emotions high, but there are few crucial steps to take immediately following a bus crash to ensure your rights are protected.
Tips To Protect Your Rights After A Bus Accident
Suggestion – Keep a copy of these bus accident steps in your car or truck so you will be prepared.
1. Stop your car, no matter how minor the accident.
2. Assist any injured persons.
3. Protect the scene. If it is safe to do so, you are best off to not move the motor vehicles until after law enforcement has arrived. If the car poses a safety threat to other traffic if not moved, however, you should move it.
4. Call the police or highway patrol. Alabama laws require that drivers of vehicles involved in auto accidents resulting in personal injury, death, or property damage, must immediately contact the local police department, highway patrol, sheriff's department or other appropriate law enforcement agency by the quickest means available.
5. Identify the other drivers.. Be certain that you get the other driver's address, telephone number (home and work) and insurance information. Also be sure to write down the license plate number of the other vehicle.
6. Identify witnesses. As soon as possible, get the names, addresses and telephone numbers from all witnesses, and a brief description of what they saw.
7.Gather other information. As soon as possible, write down a description of how the accident occurred, including the day, time, place, weather and road conditions, traffic signals, street lights, length of skid marks, and a detailed explanation of how the accident occurred. (especially those that are temporary).
8. Take photos of the accident scene. As soon as practical, go back to the accident scene and take photographs. Be sure to include landmarks such as signs or buildings so that it will be easy to describe what the pictures show later. Try to include any skid marks, damage to the grass, trees or shrubbery, and look for any small car parts that might still be on the ground.
9. Take photos of damage to the vehicle.
10. Do not make any comments.
11. Listen carefully. Listen to everything that the other driver says. What they say can be used to help your claim. If, for example, they apologize and say that they did not see you, remember it and write it down. A simple apology is basically an admission of fault.
12. Go to the Emergency Room or to your family physician immediately. Even though you might not think you are hurt after an accident, you may actually be. The adrenalin rush and stress caused by an accident often hide the full extent of the injuries. There may be internal injuries that you are not aware of. Be certain to tell the doctors that you were in an auto accident and describe anything that you are feeling that is unusual, no matter how minor, as the doctor may recognize it as a symptom of a more serious problem. If you were treated at the scene of the accident for any injuries, continue with the treatment prescribed by the health care provider. Any delay or breaks in treatment can negatively affect your physical recovery as well as the settlement value of your case.
13. Call your insurance company.
14. NEVER GIVE A RECORDED STATEMENT to the other driver's insurance adjuster. No matter what you say, you will say something wrong and the insurance company will use it against you to try to keep from paying you what you are entitled to. If the adjuster wants a statement, have him or her call your attorney.
15. Take photos of your injuries.
16. Call an attorney.
17. Start a diary. Start a daily record of all pains and inconveniences that you are suffering from as a result of the accident and your injuries. Write down everything. Give it to your attorney only.
18. Keep records of missed time from work. You may be entitled to recover for your lost wages, so keep an accurate record of all time that you are away from your job.
19. Obtain a copy of the police report regarding the accident.
20. Do not settle or sign an agreement with the insurance company until a lawyer has reviewed the agreement.
Types of Bus Accidents
Our Huntsville bus accident lawyers handle all types of bus accident cases for injured victims. Some of these types of accidents include:
Accidents on CTA and other local mass transit carriers
School bus accidents
Accidents on charter bus tours
Bus accidents involving sight-seeing buses
Greyhound, Megabus and other interstate passenger buses
Shuttle bus accidents
Causes of Alabama Bus Accidents
When you step onto a city transit bus or put your child on a school bus, you trust that every effort has been made to protect your safety or the safety or your child. Sadly, many bus accidents are caused by:
Lack of seatbelts
Bus driver error
Flammable seat cushions
Faulty emergency exits
Dangerous roadways
Weather conditions
Defective parts
Improper maintenance
Criminal activity
Bus Driver Inattention
Bus driver fatigue
Aggressive Driving by the Bus Driver
Bus Speeding
Poor Bus Maintenance (bald tires, worn brakes, etc.)
Bus Mechanical Failure
Improper Hiring Practices
Inadequate Safety Training/Policies
Monetary Compensation for Serious Bus Injuries and Tragic Deaths
If you suffered a serious injury or your loved one was tragically killed in a bus accident, you may be able to file a lawsuit to collect monetary compensation for the damages associated with your injury or loss, including:
Medical bills
Lost earnings and wages
Impaired earning capacity
Life care costs
Occupational rehabilitation
Disfigurement
Loss of relations
Pain and suffering
Punitive damages in wrongful death cases.
Call us today for a FREE Bus Accident Consultation
We understand that you are looking for the best bus accident attorney you can hire. Call us today to discuss your bus accident case. We offer the only lowest fee guarantee in Alabama. There is no obligation and our consultation is absolutely free. We do not get paid unless we recover for you. It is important that you choose an experienced Alabama and Tennessee law firm that knows how to win your bus accident case for you. We have the knowledge, experience and qualifications to get you the justice you deserve. If you are looking for a top rated bus accident attorney, call 256-534-3435 now. We are here to help.