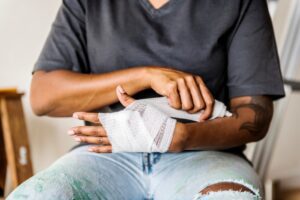 3 Tips to Pick out an Accident Lawyer
Accidents happen every day in Huntsville and Decatur, Alabama. Workplace accidents can occur in factories and construction sites, while motor vehicle accidents occur on highways, interstates and residential streets. You could even be injured in a mall, grocery store or public venue.
Accidents are so common they're the third-leading cause of death in the United States. It's natural for accident victims to have to seek an attorney after being injured by a negligent party. If you need to hire an attorney to protect your legal rights, we can help. Whether you were injured in a workplace accident, motorcycle accident or an auto accident, use the tips outlined below when hiring a personal injury attorney.
1. Hire a local lawyer who specializes in personal injury law.
Hiring an attorney off a billboard or television is almost never a good idea. The attorneys doing the commercials and on the billboards rarely handle cases. Big billboard and television firms are often settlement mills that hire attorneys who are inexperienced to handle the load of calls they receive off the television. You usually have fee agreements and documents emailed or mailed to you without even having a consultation with an attorney. Your case is turned over to an associate with hundreds of cases. You are lucky if you will ever meet the attorney or have calls returned by your attorney. Further, usually you deal with secretaries or paralegals, not attorneys. You will be lucky if you ever talk to or have a call returned by the attorney assigned to your case. Consequently, you should hire an experienced and local attorney specializing in personal injury law familiar with local state laws.
If you were in a Huntsville or Decatur, Alabama car accident, look for the best accident lawyer you can hire. The attorneys at Ferguson & Ferguson have over 60 years of experience representing accident victims affected by car crashes, motorcycle accidents, and pedestrian accidents. Whether you've suffered a spinal cord injury or a traumatic brain injury, an experienced personal injury lawyer will fight for the responsible party to pay fair compensation for medical expenses, property damage, lost income, and pain and suffering to the extent that the State of Alabama allows.
2. Make sure you're comfortable with the accident attorney you hire.
Most personal injury law firms offer a free consultation, ensuring you have an opportunity to speak to a lawyer before deciding whether to hire them. Find a injured lawyer who believes in your case and has the ability to handle your case. Due to the nature of personal injury lawsuits, it is important that you can trust your attorney to do everything  possible to win your case. Your lawyer should advise you how to pursue medical treatment and follow your treating physicians instructions.  Treatment can be expensive, but medical test results can strengthen your case and strengthen your insurance claim.
Your lawyer should provide critical information, such as the statute of limitations applying to your case. Your lawyer will also outline all your legal options, ensuring you make an informed decision about whether to pursue a lawsuit against the responsible party or whether to accept a settlement offer from their insurance company.
3. Ask friends and family for referrals.
Looking for a Alabama personal injury lawyer can be challenging, especially if you are bombarded by cheesy television pitch men  and annoying billboards blocking your view. Asking for a referral from a friend or family member is often a better choice than hiring someone from a television commercial  or off the internet. Family members, friends, and coworkers are often great sources of information about attorneys. You can also ask paramedics, nurses, and doctors for referrals when you're receiving medical attention. People who deal with accident victims regularly may know which attorneys can handle your personal injury claim.
You can also learn about local attorneys by reviewing them on the internet. Read their bio on their website, AVVO and other information sites. Further, read their reviews on google, yelp and other review sites. You can use a free consultation to talk to attorneys, enabling you to hire an attorney you feel comfortable with. .