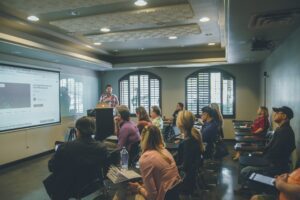 Image via Unsplash
College Education After Leaving the Armed Forces: What Veterans Should Know About Returning to School
If you are a veteran, you may be thinking about returning to school to obtain a certification, undergraduate or graduate education, or another form of training. Pursuing further education offers many benefits, including career opportunities, pathways to financial security, and the chance to explore dreams and find fulfillment. As you contemplate the options before you, take these points into consideration, presented by Ferguson & Ferguson.
Utilize Available Financial Resources
As a former member of the armed forces, you have access to many resources, including the Post-9/11 GI Bill if you served after September 10, 2011, for a long enough period. Based on the length of your service, you can receive differing amounts of funds to go towards, tuition, fees and housing expenses. You may also qualify for the Reserve Educational Assistance Program or other programs. There are also many grants and scholarships, small and large, you can apply for, as well as loans for veterans.
Many institutions offer financial aid specifically for veterans. Pick the school you go to carefully, because it can make a big difference in the support you receive, financial and otherwise.
Carefully Consider What You Want Out of Your Education
Think about the job potential associated with the training, certification or degree you want. Consider if it will advance your career goals. If you don't have a specific career in mind, look into those fields that have room for advancement and research whether they are difficult to break into, what else you will need to make a go of it and how lucrative they are.
Engineering is one degree known to have great earning potential and job security.  Findings show that majors in engineering as well as sciences, math and healthcare have the greatest return on investment. Research from 2017 listed computer science, visual art, sociology and industrial engineering as among the most financially rewarding degrees.
Business management and administration was number five on this list. A Master of Business Administration offers good earning potential, allowing you to refine and sharpen your business acumen. You can even take an online MBA program, giving you flexibility in balancing your work, family and school life as you build skills in economics, marketing, accounting and strategic planning. With an MBA, you can work in a variety of capacities, such as business administrator, general manager and operations director.
Don't Handle the Transition on Your Own
Government statistics show that in 2018 almost 670,000 veterans used Veterans Affairs benefits to help them gain more education. Out of these, 85% were in an older age range than typical for college attendees. This and other factors may contribute to individuals entering educational institutions experiencing challenges such as difficulty adjusting to life after immersion in combat situations and a sense of isolation from others. Post-traumatic stress disorder, brain trauma and other physical and mental conditions arising from your experience in the military may cause hardship, but they can be overcome.
Don't try to be a lone island. Don't underestimate the power of seeking help when you need it and don't think it's wrong to need it. Consult your academic advisor to get your scheduling and other needs met. Network and build a community and a support system. Search for veterans groups to connect with others who understand what you are going through.
As you return to school, it is vital to take time for self-care and carefully consider all the factors at play. By choosing the right institution, financing and area of study, you can make the most of your life and career after your military service.