How to Handle a Motorcycle Accident Claim in Alabama
Riding a motorcycle is a popular hobby in Alabama —more than 8.6 million motorcycles run on the road. When motorcycle accidents happen, riders often sustain catastrophic injuries. After a motorcycle accident, many people have questions about the Alabama legal process. Most of our injured clients are unsure how to get the accident report and file a claim against the at fault parties insurance company. Clients routinely ask our Huntsville and Decatur motorcycle accident attorneys about medical treatment, property damage and the other parties insurance adjuster. Unfortunately, often times it is the family member of the deceased motorcycle rider that comes to our office.
How long does a Alabama motorcycle accident lawsuit take is a question accident victims frequently ask. What elements affect how long a motorbike lawsuit lasts? Do you need to file a motorcycle accident lawsuit in order to get compensated for your injuries? We have put together the most frequently asked questions in this one easy to understand article. This article outlines some of the most crucial information you should know if you or a loved one has been in a motorcycle accident.
What to do After A Motorcycle Accident
Did you know that over half of all motorcycle accidents are caused by the other motorists. After a motorcycle accident, you are often confused and unsure of what to say or do. Always remain at the scene until you can speak with the other party involved if you can. Never admit you were at fault and do the following:
Remain calm and remain in your vehicle (unless too dangerous)
Turn on your hazard lights
Call 911
Unless necessary, do not move the vehicles until the police arrive
Never leave the scene of the accident
Immediately file an accident report with the police, sheriff or state trooper, if the agency has not done so at the scene.
Write down the name, address, insurance information, vehicle license number and driver's license number of any and all persons involved in the car accident. Record names, addresses and telephone numbers of all witnesses.
Do not admit fault
Immediately notify your own insurance company of the accident
Do not discuss the accident with anyone except the police or your own insurance agent or representative; you are not required to give a statement to anyone but the police and your insurance company
Obtain photographs of the accident scene, all vehicles involved (before repairing) and any visible injuries to the parties involved, such as cuts, bruises, and scars.
If you have a dashcam or Go Pro installed by a company like BlackBoxMyCar, recover any footage that documents the accident.
Do not discuss the accident or your injuries with anyone, with the exception of your doctor and your attorney.
Do not consent to a recorded statement or sign any document without first reviewing it with your attorney. Innocent statements made by you attempting to assist an insurance adjuster can easily be misinterpreted and used to deny or minimize your recovery.
Immediately seek medical attention for injured drivers and passengers and tell your doctor the nature and extent of your pain and injury, and how the injury occurred.
Track Your Expenses. A strong claim clearly outlines the financial impact of your accident. Keep records of your:
All medical bills, including doctor's visits, surgery and therapy,
Future medical bills including long term care,
mileage driven to all medical providers,
rental car expenses,
time away from work,
and any other expenses your accident has caused.

The Most Common Causes of Motorcycle Accidents in Alabama
Did you know that motorcyclists are 27 times more likely than passenger car occupants to die in a crash, and are over five times as likely to be injured. The National Highway Traffic Safety Administration determined that human error was a primary factor in 94 percent of all motor vehicle accidents. Almost 70 percent of single-motorcycle accidents are the result of failing to negotiate a curve.Most motorcycle accidents are caused by the other driver, and the most common causes include the following:
Unsafe lane changes Many drivers fail to check for motor vehicles or fail to signal because they can't see motorcyclist because of a blind spot.According to a report published by the National Highway Traffic Safety Administration (NHTSA) in March 2019, more than 500,000 accidents occurred between the years of 2015 and 2019 as a result of a blind spot problem.
More than 188,000 injuries and more than 500 fatalities were caused by these collisions.
Car doors Dooring occurs when a driver opens their parked vehicle's door without checking for oncoming vehicles. Drivers of cars or trucks who open their car door without looking can strike a motorcyclist and cause them to fall off their bike.
Speeding A leading cause of all motor vehicle accidents is speed. Speeding is a factor in 26 percent of fatal accidents each year.
Driving under the influence Driving under the influence of alcohol or drugs can be extremely dangerous. This is criminal and civil if an accident happened.
Lane splitting by the motorcycle Very dangerous practice of motorcyclist driving between lanes and cars.
Sudden stops Cars or motorcyclist stopping too fast and/or tailgating.
Weather Snow, rain and storms often contribute to motorcycle accidents.
Left turn accidents More than 40% of all accidents involving a motorcycle and a second vehicle are caused by the other vehicle turning left across traffic. Commonly caused by drivers who misjudge the motorcyclist's speed or distance, fail to see the motorcyclist, stop or turn in the motorcyclist's path.
Distracted driving Driving while distracted is the leading cause of auto accidents in Alabama. Texting can take your eyes off the road for 5 seconds or more.
Defective roads Dangerous pavement, potholes, debris, and other dangerous signals and signs can cause accidents.
Sudden stops Stopping too fast in traffic or too fast for your speed.
Head-on collisions Head-on collisions caused by one vehicle in wrong lane.
Swerving in front of a cyclist Not giving the cyclist notice of lane change.
Overcompensating the front brake: When the front brake of the motorcycle stops too hard.
Vehicle and motorcycle defects: Defective parts or motorcycle design.
Riding without a valid motorcycle license: Not having a license or training.
Riding without a helmet/protective gear: Head injuries are often the result of not wearing a helmet.
Pulling out in front of a motorcycle: Pulling out or not yielding to motorcycle. in front of motorcycle.
Backing out of a parking spot without checking for motorcycles: Not looking before backing out in parking lots.
Riding on sidewalks.
Improper or no training. Taking a safety course can save your life.
Cell phone use.
Riding without protective gear. Motorcycle helmets are 37 percent (for riders) and 41 percent (for passengers) effective in preventing deaths.
Common Injuries After Motorcycle Accidents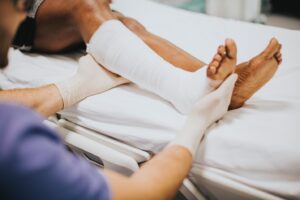 More than 80 percent of all reported Alabama motorcycle crashes result in injury or death to the motorcyclist. Most people injured in Alabama motorcycle accidents are killed or sustain significant injuries, often requiring a lawsuit to get fair compensation. Major injuries cannot be ignored, especially if they result in sky high medical bills, excruciating pain, forced absences from work, or permanent disability.
The extent of a victim's injuries after a motorcycle accident affects how long it may take to settle or try a motorcycle accident case. The longer the recovery time, the longer it will take to get the case settled or tried in court. This is due to the fact that those who die or suffer more serious injuries frequently suffer more losses, including medical expenses, missed pay, and mental suffering. Further, they often recover more slowly as well. That is why it is so important to have a clear understanding of how bad the injuries are in your case.
Common Motorcycle Accident Injuries include:
Road rash: Road rash injuries generally occur when a rider's skin scrapes across the road at vehicle speeds during an accident. The pavement, dirt, gravel, or other surfaces cause bruises, abrasion, and cuts. Road rash is common amongst motorcyclists because people on motorcycles naturally lack the protection that cars' structures offer. Wearing protective gear can help reduce road rash during an accident. The severity of this type of injury can range from mild to serious injury that will require prompt medical attention, and are highly susceptible to serious infections and permanent scarring.
Traumatic brain injury: A Traumatic Brain Injury (also known as a TBI) can be very dangerous. Head trauma is often caused by other vehicles or objects. Traumatic brain injuries are usually the result of not wearing a helmet. Brain injuries cause slurred speech, confusion, agitation and seizures. This type of injury has the potential to cause lifelong complications. Depending on the brain injury, the victim may need long-term or even life-long care after the accident. If someone may have received a TBI from a motorcycle accident, they should seek medical attention immediately.
Spinal cord injury: Most injuries to the spine occur because of compression or pulling during a collision. When the spinal cord is injured from the impact of a collision, it can result in paralysis (paraplegia or quadriplegia.) This type of catastrophic injury usually causes permanent disability for the victim. A spinal cord injury victim may experience spasms, exaggerated reflexes, pain, numbness, paralysis, and other serious symptoms if their spinal cord is injured.
Broken bones: A collision with another vehicle, tree or pole can lead to fractures and broken bones. A NHTSA study of lower-extremity injuries in motorcycle crashes concluded that these injuries are sustained by riders more frequently than any other type of injury. Leg injuries were the most common lower-extremity injury, and bone fractures were more common than soft-tissue injuries. When riding a motorcycle, your legs and pelvis are two areas that may withstand more of the impact from a collision due to their position on the motorcycle. A severe lower-extremity injury may even disable a victim from walking, either temporarily or permanently. Fractures that break the skin or occur in numerous places, are very medically serious. These types of breaks may take quite some time to heal and can require expensive surgeries and extensive rehabilitative therapy. It's important to understand the nature of your fracture (or fractures) if you've broken a bone in a motorcycle accident.
Internal injuries: Internal injuries are especially dangerous because they are impossible to detect with the naked eye. Damage to internal organs and internal bleeding can be caused by blunt-force trauma (a blow from something hard that does not break the skin) or penetration trauma. It's one of the reasons why it's so important to seek medical attention right away after a motorcycle accident, even if you think you aren't hurt. These injuries have the potential to cause tremendous damage to your body.
Upper-Extremity Injuries:The second most common motorcycle accident injury is upper extremity injuries, according to the National Center for Biotechnology Information (NCBI).
Burns: Burns injuries are often caused by fires, heat or metal. Burn injuries are painful and can take years to heal and often leave scars.
Amputations: Loss of arms, legs hands and feet.Riders who suffer broken or crushed bones may require extensive orthopedic reconstruction. Victims may also lose limbs or appendages in an accident, or require amputations of legs or arms which can't be saved.
Facial Injuries and Disfigurement: Scarring and deformities caused by accident. The face and mouth are particularly vulnerable to serious motorcycle accident injuries. Victims may suffer from eye damage or vision loss, broken facial bones, loose or missing teeth, facial scarring, and other complications. Some crash-related dental and facial injuries can be disfiguring, affecting a victim's self-esteem and confidence.
Psychological injuries:Motorcycle accidents are traumatic experiences that have long-term psychological consequences. For example, injured bikers may struggle with severe anxiety, clinical depression, or even PTSD. Psychological injuries may be particularly critical for victims facing a permanent injury, such as paralysis, a TBI, or disfigurement. Paraplegia: Paralysis caused by injury to the spinal cord.
Death: 14% of all traffic fatality victims were motorcyclists (despite the fact that motorcycles were only 3% of registered vehicles). In Alabama you can recover only punitive damages for motorcycle deaths.
What Damages Can I Recover in a Motorcycle Accident in Alabama
If you have been injured or lost a loved one in a motorcycle accident, you may be entitled to compensation for damages. The length of time a motorcycle accident lawsuit takes may depend on the types of damages you seek. Every motorcycle collision is different. After an accident, many people enter the legal process with preconceived notions about what they can recover for and how much money they can receive for their injuries. The best way to learn how your case might go is to speak with a knowledgeable motorcycle accident attorney in Decatur or Huntsville.
The timetable of your lawsuit may alter depending on the sorts of damages you decide to pursue following a motorcycle accident. Higher damage demands typically result in lengthier settlement times.
Although it's not always the case, bigger claim values frequently call for a more in-depth inquiry and expenses.
The Damages You Can Recover in a Motorcycle Accident in Alabama include:
Emergency helicopter transport/ambulance service
Medical bills: You may be eligible to recover the costs of past, present, and future medical bills incurred due to your motorcycle accident. Higher medical bills are generally associated with more severe or long-term injuries. When these are involved, a motorcycle accident lawsuit may take longer than one that involves "minor" injuries.
Rehabilitation and therapy: Rehabilitation costs and expenses from your injuries.
Pain and suffering: Many motorcycle accidents cause survivors to experience pain and suffering. These damages depend on how you have been emotionally and physically impacted by your accident.
Mental anguish: Emotional suffering includes feelings of fright, embarrassment, nervousness, worry, and grief.
Lost wages: Unfortunately, it's common to miss work after a motorcycle accident. You may need to take time off for a variety of reasons. For example, you may need time to physically recover, attend doctor's appointments, or undergo surgery. You can pursue compensation to account for lost wages.
Special equipment to accommodate disabilities: Wheelchairs and other equipment.
Diminished earning capacity: Lost wages are one thing, but diminished earning capacity is a whole other issue. Sometimes, an injured person's ability to earn money is permanently diminished after their motorcycle accident.
Loss of enjoyment of life: No one deserves to feel that their enjoyment of life has been taken from them. An injury stemming from a motorcycle accident may force you to become reliant on others for everyday tasks or sacrifice a hobby you have invested time, money, and effort in.
Disfigurement: Some motorcycle accident injuries lead to disfigurement and scarring. These types of injuries can involve additional pain and suffering, extended recovery time from follow-up surgeries, and loss of confidence.
Disability: If your motorcycle accident caused a type of disability, you can pursue damages to account for this impact on your life. No monetary sum could ever make up for a disability, but the American justice system works to provide accident survivors impacted by disability with some financial relief.
Loss of consortium: Spouse can recover compensation for the loss of services, assistance, aid, society, and companionship of his or her loved one.
Property damage: Compensation for vehicle damage and contents of the vehicle damaged in accident.
Loss of use: Money to compensate you for the loss of use of your vehicle while being repaired by the insurance company.
Workers compensation: Compensation for injured worker while working for someone.
Wrongful death: Compensation paid to spouse and children for the wrongful death of their loved one.
How We Can Investigate And Prepare Your Motorcycle Accident Case
Our motorcycle accident lawyers can start an investigation into your accident the day you hire us to represent you. We can go to the accident scene, talk to witnesses and gather evidence to establish who is at fault for your injuries. We can do the following:
Meet you in person. We can do this at our office, your home or place of business, or any other location you choose.
We will represent you based on a contingency fee agreement. We are paid if we win.
Get the accident report and assess the damages.
Hire accident reconstruction experts.
Visit the accident scene and take skid mark measurements.
Take photos and videos of the scene and the vehicles involved.
Get a hold of security camera footage.
Consult with experts.
Talk to witnesses and your doctors.
Investigate the other motorist's driving history.
Gathering all medical records related to your motorcycle accident.
Get copies of your pay stubs from your employer.
Take pictures of any scarring or injuries.
Prepare a settlement brochure and offer.
Help with paying medical bills and living expenses.
File suit and prepare the case for trial. If we cannot settle the suit, we will file a lawsuit.
Mediate your case.
Try your case.
Why Hire Motorcycle Accident Attorney Randy W. Ferguson
The law offices of Ferguson and Ferguson takes pride in giving each client individual and personal attention. We are a experienced motorcycle accident law firm that has successfully won substantial amounts for victims of motorcycle crashes in Decatur and Huntsville, Alabama.
We are committed to excellent client service.
We care about our clients, and have patience.
We identify the party responsible for your injuries.
We obtain your medical records and bills.
We can help with financial assistance.
We will help you get necessary medical treatment.
We get your bills paid, reduced and/or eliminated.
Free phone consultation 24/7.
Free office consultation as late as 7 p.m. and Saturdays.
Two locations near you.
We answer all our clients calls, or return them promptly.
We make sure that our clients understand each step of their case.
Free assistance for motorcycle property damage.
We have great compassion for the physical, emotional, and financial problems that our clients suffered, and will do everything possible to get them through their difficult time.
Frequently Asked Questions
These are some of our most frequently asked questions:

How can you avoid a motorcycle accident
The NSC says to read the road ahead, drive to the right, reduce your speed and ride off the road.
Do I need a lawyer after a motorcycle accident in Alabama?
In a motorcycle accident case, you are dealing with a team of insurance adjusters and attorneys. There job is to pay you as little as possible. Contact an experienced motorcycle accident attorney who will give you a free consultation.
Do you have to wear a helmet in Alabama?
Yes, in Alabama all riders and passengers are required to wear a helmet.
Should I accept a settlement from an insurance company?
If you are injured, you should never accept a settlement from an insurance company before talking to an attorney. Insurance companies try to pay out as little money as possible in every case. An attorney can usually get you a much bigger settlement.
What injuries are most common from motorcycle accidents?
People injured in motorcycle accidents in Alabama often break bones, suffer traumatic brain injuries and often die. Other common injuries from motorcycle wrecks can include road rash, neck injuries, and herniated discs.
Is the daytime use of headlights required by law in Alabama?
Alabama requires the use of daytime headlights but allows a "modulating headlight" that changes between full power, low beam, and a dimming effect.
How much does a motorcycle accident lawyer cost?
We never charge a fee up front. We only get paid if we win your case. All consultations are free.
How much time do I have after my motorcycle accident to file a lawsuit?
Two years in Alabama, unless you are a minor.
What should I do after my motorcycle accident?
Call the police and do a report. Notify your insurance company. Take pictures of the accident scene and your injuries. Get medical treatment. Call our office.
Is lane splitting allowed in Alabama?
No, lane splitting is illegal in Alabama.
Can you wear headphones while riding in Alabama?
No, wearing headphones while driving your motorcycle is illegal in Alabama.
Free Consultation With Local Attorney
Having the best possible legal representation for a motorcycle accident claim does make a difference. Ferguson & Ferguson, located in Huntsville and Decatur, Alabama are motorcycle accident attorneys who aggressively pursue legal rights for accident victims with significant physical or psychological injuries. Our Huntsville motorcycle accident lawyers are skilled at handling motorcycle accidents, including fatal accidents. If you or a member of your family is the victim of a Alabama freeway or highway accident, you may be entitled to substantial compensation for your injuries, lost wages, and pain and suffering. Contact Ferguson & Ferguson for a free consultation and complimentary assessment of your case. We are happy to answer your questions and explain your legal options at no charge. Our staff is available to take your call 24 hours a day. Home and hospital visits are also available any where in the state of Alabama. To speak with attorney, call 256-534-3435 or 256-350-7200. We are here to help.
Huntsville Office Location:
303 Williams Avenue SW
Suite 321
Huntsville, AL 35801
Decatur Office Location:
211 Oak Street NE
Decatur, AL 35601