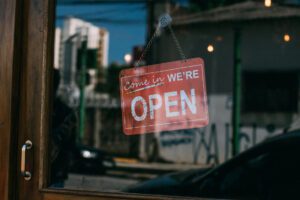 Source
How to Qualify for Small Business Loans
If you are planning to add to the existing small businesses in the United States, which, according to the US Small Business Administration (SBA), has grown to 30 million, you need your capital ready. The Wells Fargo Small Business Index suggests that an average of $10,000 is what you need to start a business. If you are already a small-business owner, on the other hand, you would probably need funds for research and development, expansion, or hiring new people. Either way, a small-business loan can be appealing to you.
Who offers small-business loans?
Both traditional and alternative lenders offer small-business loans. In most cases, you must first consider working with SBA-backed lenders. They often offer generous repayment terms and reasonable interest rates. Note that small banks are likely to be more helpful to small businesses than big banks that prefer to work with larger customers. If you are looking to loan an amount upwards of $1 million, going with a big bank could be a good choice. Alternative lenders, such as those you can find after a quick search on the Internet, may offer higher interest rates but may have more relaxed standards.
How do you qualify for a small-business loan?
Credit Score. A small-business lender will check both your personal and business credit scores in order to see how you manage debt. Personal credit scores range from 300 to 850 and are based on personal debts such as credit cards, mortgage, and car loans. More established businesses may check their business credit score at three business bureaus: Experian, Equifax, and Dun & Bradstreet. Business credit scores range from 0 to 100. To qualify for an SBA loan or a traditional loan from a bank, expect that you need to show excellent personal and business credit scores. Online lenders can be a bit more lenient in credit score requirements and may give more emphasis on the business cash flow and track record.
Legal and Financial Documents.
Getting a loan can be time-consuming because of the wide range of documents that lenders require. If you need money fast, you may consider working with online lenders as they have a more streamlined process with fewer documentation requirements. Banks and other traditional lenders usually require the following legal and financial documents. Better be ready with these documents before starting your small-business lender search to save time.
Commercial leases
Business licenses
Personal and business bank statements and income tax returns
Balance sheet and income statement
A photocopy of your driver's license
Articles of incorporation
A resume that shows relevant management or business experience
If you have a limited operating history, financial projections could be required
Business Plan.
Lenders might require a strong business plan that includes the purpose of the loan and the plan on how it will increase your profits. They want to see how you are going to use the money and whether you have the ability to repay the debt. Your business plan must ascertain confidence in your lender, so it must include current and projected financials that show that you will have enough for the ongoing operations and the repayment of the loan taken.
Collateral.
It is highly likely that you will have to provide collateral to qualify for a small business loan. An asset such as equipment, inventory, or real estate can be used as collateral. SBA loans require collateral on all loans plus a personal guarantee from an owner of the business with at least 20% ownership. Note that a personal guarantee puts credit score and personal assets on the hook. Some online lenders do not require collateral but would ask for a personal guarantee. Some may take a blanket lien on your business assets, which means that they are given the right to take business assets such as equipment, inventory, and real estate in case the debt is not repaid. If this does not sound like a good idea to you, you may want to consider getting an unsecured business loan instead.
Every lender varies in requirements and offerings, so it is important to take the time to look into every option and compare them. The requirements listed above are what lenders generally require and review. It may help jumpstart your small-business loan search if you know what documents and other requirements to prepare beforehand.
This article originally appeared on Payment1.com.