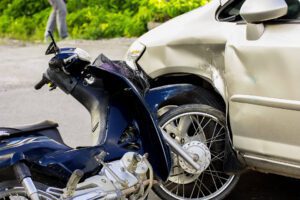 Motorcycle Accident Attorney
Every day hundreds of motorcycle riders are injured or killed by negligent drivers. In Alabama alone, there were over 24,000 motor vehicle accidents in 2015. More than 10,000 people were injured or killed in those accidents. Alabama averages around 100 deaths involving motorcycle riders each year. Have you been injured or lost a loved one in a motorcycle accident in Alabama? Do you have questions? Clients often call us frustrated after they have attempted to handle their own motorcycle accident claim. Just avoiding these mistakes will increase your chances of successfully recovering in your motorcycle case. If you have been injured in a motorcycle accident in Decatur or Huntsville, Alabama, call now. Call 256-534-3435 or 256-350-7200. We offer no obligation, FREE CONSULTATIONS to all motorcycle accident victims. If you are unable to come to our office, we can visit you at your home or hospital room. We also offer the only Lowest Fee Guarantee in Alabama.
What Caused Your Motorcycle Accident
You have had a motorcycle accident. Do you know who was at fault? Some causes of motorcycle accidents include:
Accidents with distracted, intoxicated or fatigued drivers who didn't see or stop for the motorcycle
Accidents caused by drivers who are speeding and who lose control of their vehicle or who are unable to stop in time before hitting a motorcyclist
Accidents resulting from drivers who fail to yield the right-of-way to motorcycle riders when the rules of the road require him or her to yield
Motorcycle crashes resulting from drivers who misjudge the speed of a motorcycle rider or who do not accurately judge the distance between their car and the motorcycle
Crashes caused by drivers who don't see a motorcycle rider
Accidents caused by tailgating drivers
Defects in the motorcycle itself
Weather
Driver error
Animals
High blood alcohol levels are a major problem among motorcycle operators.
What to do After a Motorcycle Accident
When you have been injured in a motorcycle accident in Alabama, the other driver's insurance company is probably working hard to deny your claim. Make sure to do the following:
Immediately file an accident report with the police, sheriff or highway patrol, if the agency has not done so at the scene.
Write down the name, address, insurance information, vehicle license number and driver's license number of any and all persons involved in the accident. Record names, addresses and telephone numbers of all witnesses.
Obtain photographs of the accident scene, all vehicles involved (before repairing) and any visible injuries to the parties involved, such as cuts, bruises, and scars.
Call your insurance company.
Keep damaged property.
Do not discuss the accident or your injuries with anyone, with the exception of your doctor and your attorney.
Do not consent to a recorded statement or sign any document without first reviewing it with your attorney. Innocent statements made by you attempting to assist an insurance adjuster can easily be misinterpreted and used to deny or minimize your recovery.
Immediately seek medical attention and tell your doctor the nature and extent of your pain and injury, and how the injury occurred.
If your loved one is killed, you must do an administration of their estate.
Hire an experienced motorcycle accident attorney, not a television or billboard attorney you will never meet in your case.
Track Your Expenses.
A strong claim clearly outlines the financial impact of your accident. Keep records of your:
medical bills,
mileage driven to doctors' appointments,
rental car expenses,
time away from work,
and any other expenses your accident has caused.
Free Consultation
After a motorcycle accident, what you do can change the outcome of your case forever. Our motorcycle accident lawyers understand how a fatal accident can impact your family. We also understand how suffering an injury in a motorcycle wreck can be devastating. If you are unable to work, or have lost a loved one, you should not have to worry about how you are going to pay your bills and take care of your family. That is why we are here to help you. When you need to know your motorcycle accident rights, call 256-534-3435 or 256-350-7200.