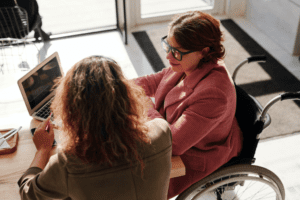 Simple Tech Tools People With Disabilities Can Use to Enhance Their Careers
We all struggle sometimes in reaching our goals. Happily, there are simple solutions from the world of technology these days, regardless of what it is that is stalling you. Whether you aim to improve your communication, efficiency, or just comfort level, check out these terrific tech tools that can help those with disabilities.
Start With Your Smartphone
These days, as Well + Good explains, newer smartphones are preloaded with accessibility options. You can turn on text-to-speech, use your voice assistant, or use dictation to aid with basic communication. Even the built-in voice assistant can be useful in your daily life. And don't overlook common conveniences that can be put to work for your situation. For example, Popsockets come in both professional and funky styles, and they can help you grip your phone while in use. Whether you make your living as a fitness coach or doing people's taxes, these little gizmos can come in handy. Plus they are super affordable.
Another popular option is a carrying case for hands-free convenience. Being able to loop your phone around your neck or stash it into a pocket on an armband allows you to keep your phone with you and handy at all times, even when you're on the move. Whether you're on your way to score your next big client or heading to an entry level job interview, with your phone handy, you can better stay in touch.
Orcam
Orcam is perfect for the visually impaired. Whether you're colorblind, have total vision loss, or you're diagnosed with dyslexia, it's made to help you achieve your goals. Easy to use tools assist in reading text, recognizing and announcing faces, identifying products, and more. Have those important conversations with coworkers or clients or hunt for a job you want without straining your eyes or struggling to understand the requirements. It doesn't require an internet connection, enabling you to take and use it anywhere.
Any.do
It's common for scheduling to be a priority for anyone. People on the autism spectrum find comfort in routines. Downloading an app such as Any.do can provide easy access to have a little independence while also giving reminders on tasks that need to be finished each day. Acting as your personal calendar, to-do list, and planner, this little app can help you stay efficient and organized.
JABstone
JABstone is your non-verbal text-to-speech best friend. Built-in sentences provide you with the structure you need to communicate. You can use images and the personalized voice to talk with co-workers or ask important questions on tasks in the workplace. It also allows you to attend meetings without the fear of missing important information, and you can enhance social bonds within the workplace.
Assistive Touch
If you have a motor skill impairment or sensation anxiety, AssistiveTouch is an app worth adding to your phone. Simply tap once to bring up options to scroll, control the volume, or press forward and backwards buttons. You can also zoom in, rotate the screen and more all by adding your preferred options to the settings.
Wonderful Websites
Are you looking for an inclusive workplace? Websites like abilityJOBS and Getting Hired can simplify your search. Made specifically to assist those with disabilities, you can seek out employers who make inclusivity a priority. These sites also offer information on improving your prospects, hiring events, career fairs, educational opportunities, and so forth. You can even create job alerts for anything new that pops up pertaining to your professional goals.
One such goal may be to continue your education by earning a degree. Online education offers the best of both worlds for disabled students: you're able to complete coursework without having to attend in-person classes and you broaden your vocational horizons by achieving an associate's, bachelor's, or master's degree. You don't have to put your life on hold in order to achieve your personal and professional goals.
Whether it's time to climb the corporate ladder or you're just looking for ways to make your day-to-day grind a little more comfortable, tech has solutions. Consider common conveniences like your smartphone accessibility features or look to cool apps like Any.do for better organization. With the right solutions in your arsenal, you'll be ready to conquer your goals!
If you've suffered a physical or accidental injury, contact personal injury attorneys Ferguson and Ferguson for a free consultation. Call us at (256) 534-3435.