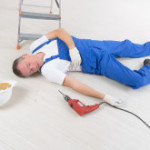 Alabama Workers Comp Secrets You Need to Know
Most people assume that their employer and the Workers Compensation insurance companies are on their side. Nothing could be further from the truth in Alabama. Remember the information listed below to help you from being hurt again in your case.
1. Often times in workers compensation cases you do not receive the correct amount of lost wages. You should receive 66 2/3% of your average weekly wage in Alabama. That includes overtime, tips, bonus pay and fringe benefits. You should total your wages for the last 52 weeks before the accident and divide by 52 to get your comp rate. If you have worker less than 52 weeks, total the weeks worker and divide by the amount of weeks worked.
2. You are entitled to unlimited medical treatment for your work related injury. That includes surgical and hospital services, along with dental, eyeglasses, and other appliances to help with your injury. Although you must go to the physician picked by your employer, you can ask for a panel of four doctors if you are unhappy with the physician picked by your employer. Your workers compensation insurance company knows that doctors picked by them will often lean a certain way with a particular injury.
3. Workers Compensation insurance companies will deny your claim if possible. They often claim you did not report the injury or that it was a pre-existing injury. Make sure you completely explain your accident and injury to your doctor.
4. Don't be surprised to find out that your workers compensation insurance company has hired a private investigator to follow and record your activities. Workers compensation fraud does take place, and your Alabama Workers compensation insurance company will search the internet and social media to try to find evidence against you. Be cautious and never go beyond your medical restrictions. Remember, often times they are just looking for a way to deny workers comp benefits.
5. If you receive a disability rating in your case, you are entitle to receive a settlement. Employers don't always inform you about your right to a settlement. All settlements will include lifetime medical coverage for that injury. All settlements must be court approved or settled in front of an ombudsman. If you choose you can settle your medicals for additional money, although it is not recommended in most cases.
If you have been injured on the job in Huntsville or Decatur, Alabama, you need to talk to an attorney. At Ferguson & Ferguson, we offer free consultations on all workers compensation cases. To talk to a workers compensation attorney now, call 256-534-3435. We can help.