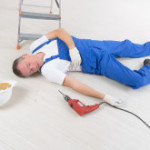 Best Worker's Compensation Lawyers Near Me
Thousands of Alabama workers are injured and killed each year in Alabama. Employers are quick to tell the injured workers that their workers compensation insurance adjusters are on their side. Nothing could be further from the truth. The insurance adjuster is not on your side. Instead, the adjuster is trying to pay you as little as possible. If you have been injured at work, you should talk to an experienced workers' comp lawyer today. We offer no obligation, FREE CONSULTATIONS. We also have a LOWEST FEE GUARANTEE. Home and hospital visits are available if you are unable to come to our Huntsville or Decatur office. Call 256-534-3435 or 256-350-7200. We are here to help you.
Seven Things to do After a Work Injury
If you are injured at work in Alabama, make sure you do the following:
Report All Work Injuries Immediately. Many employers discourage the filing of accident reports because of insurance premiums. You should not wait to report an accident. You must notify your employer within five (5) days of your accident, or you cannot recover workers' compensation benefits.
Seek Medical Treatment with an Approved Provider. You cannot go to your own doctor for treatment. You must treat with an authorized medical provider. If you treat with your personal doctor, you will have to pay the bill.
Be Honest with Your Doctors. Your doctors want to help you, but they also are under pressure from the insurance company to get you back to work as quickly as possible.
Follow the Doctor's Orders and Treatment Plan. Your employer may want you to go outside your work restrictions. Don't do it. If you return to your normal job against restrictions, you are hurting yourself and your case.
Don't Post on Social MediaPosting pictures of you doing activities and talking on social media can destroy your case.
If you are Unhappy with your Doctor, Get Second Opinion.
Talk to an Attorney. Insurance companies do not offer top dollar to unrepresented workers.
Why Hire an Attorney
If you were injured at work in Huntsville or Decatur, Alabama, you need an experienced workers compensation attorney on your side. We offer no obligation, FREE CONSULTATIONS to all injured workers in Alabama. Call 256-534-3435 now. We can help.